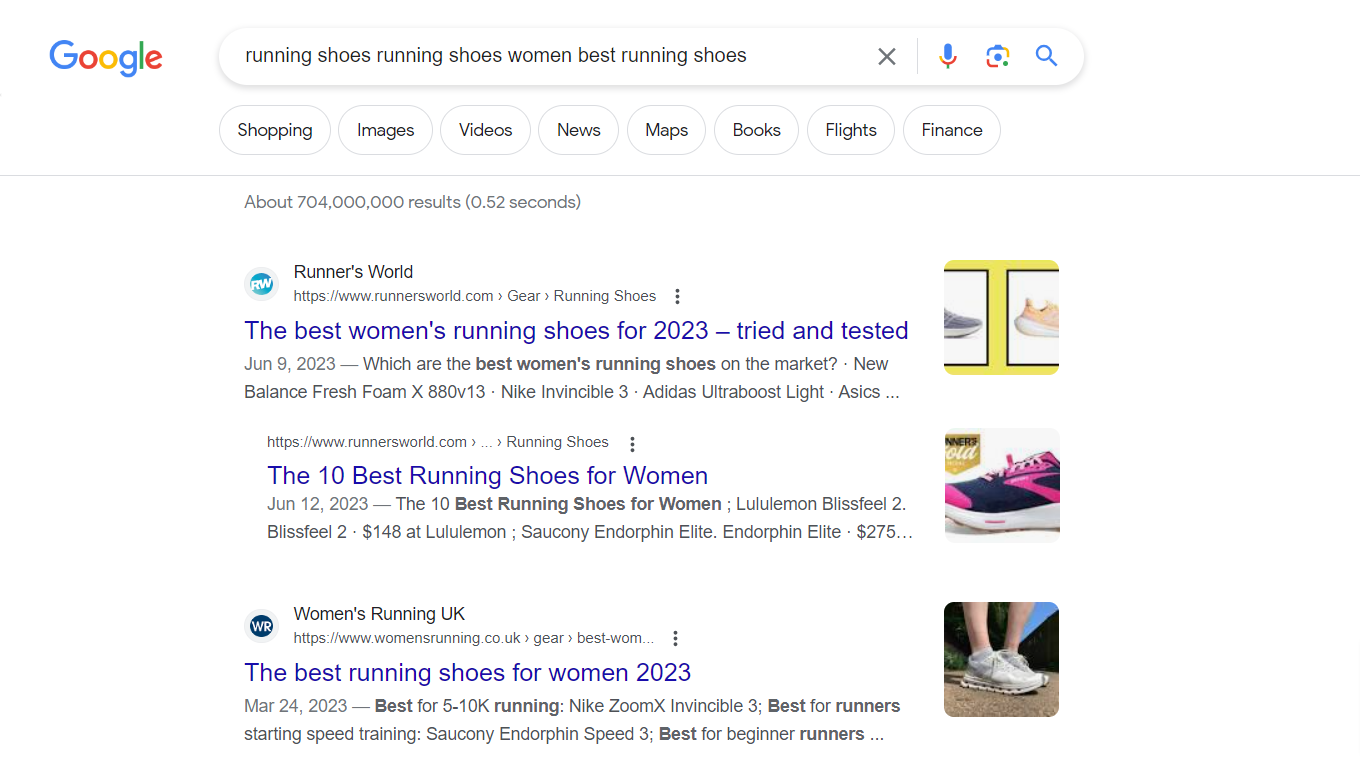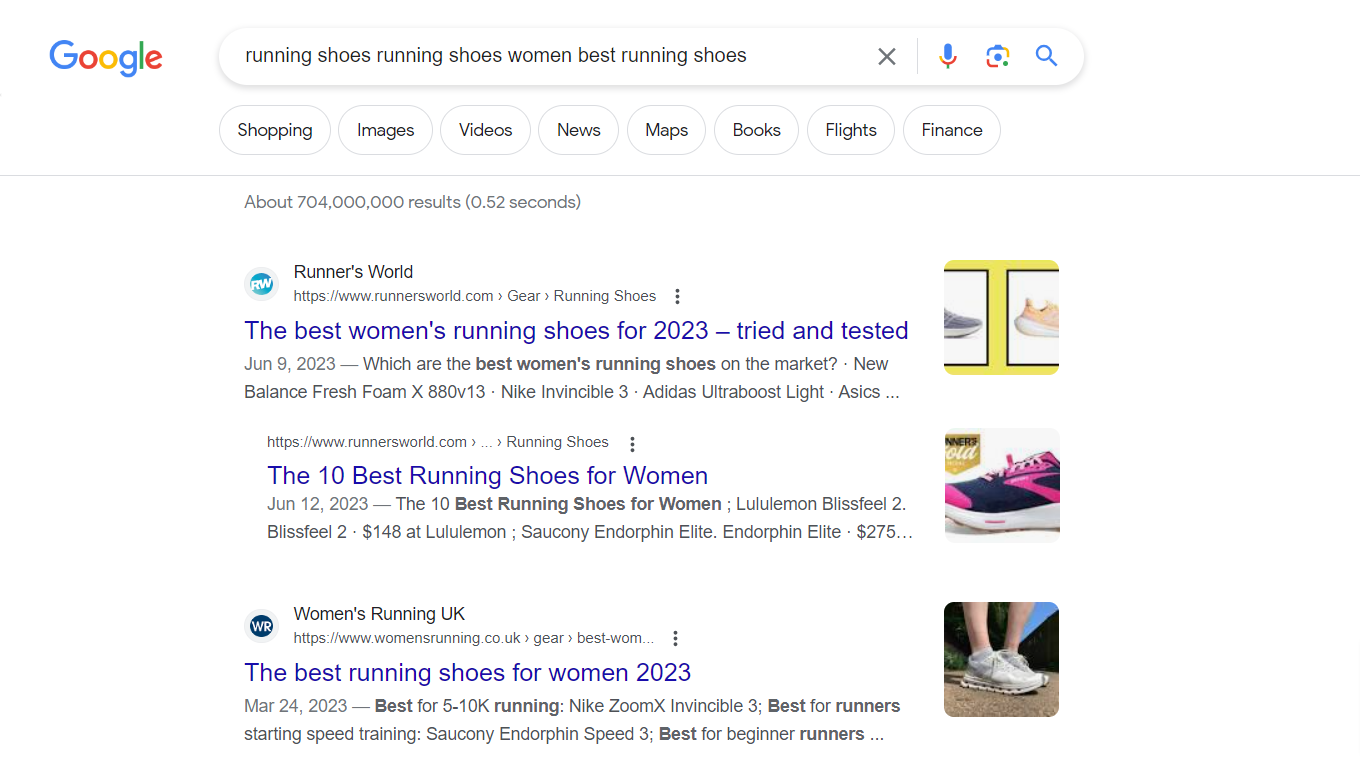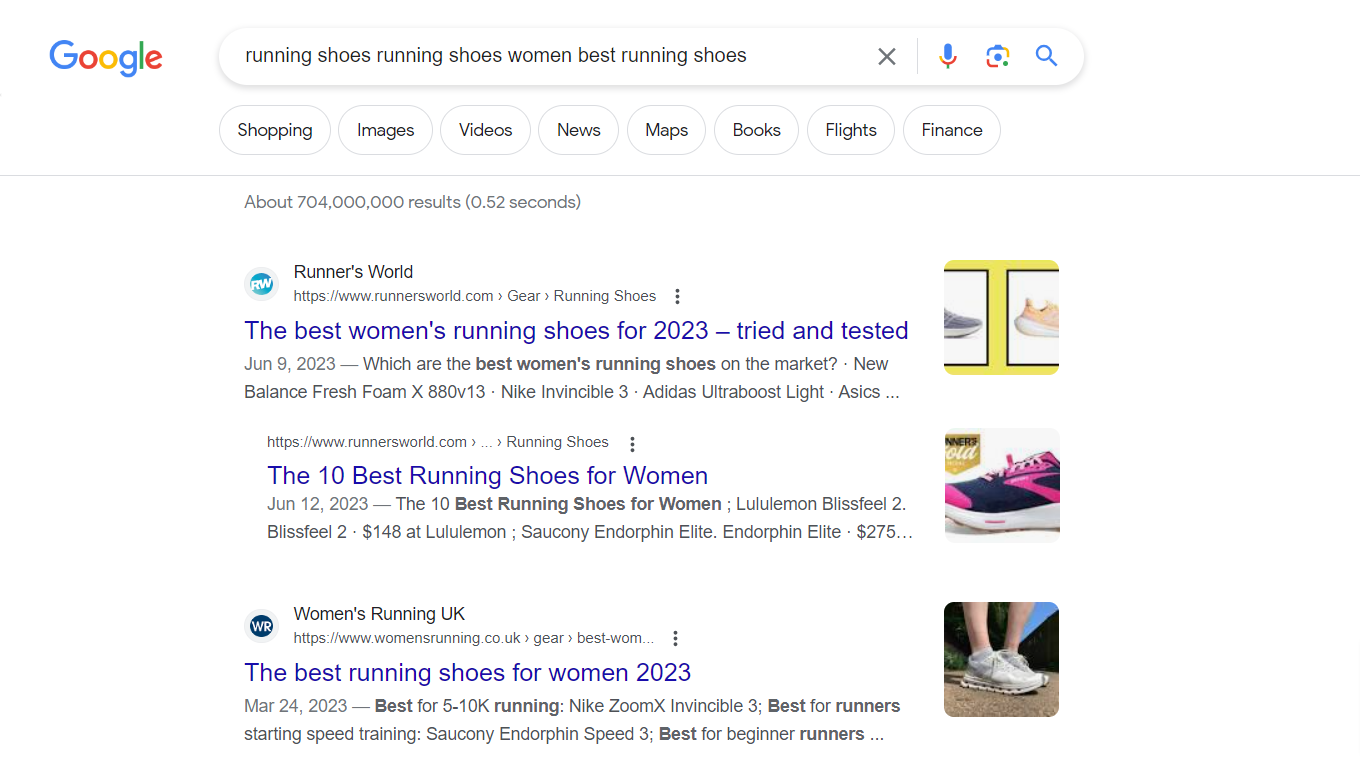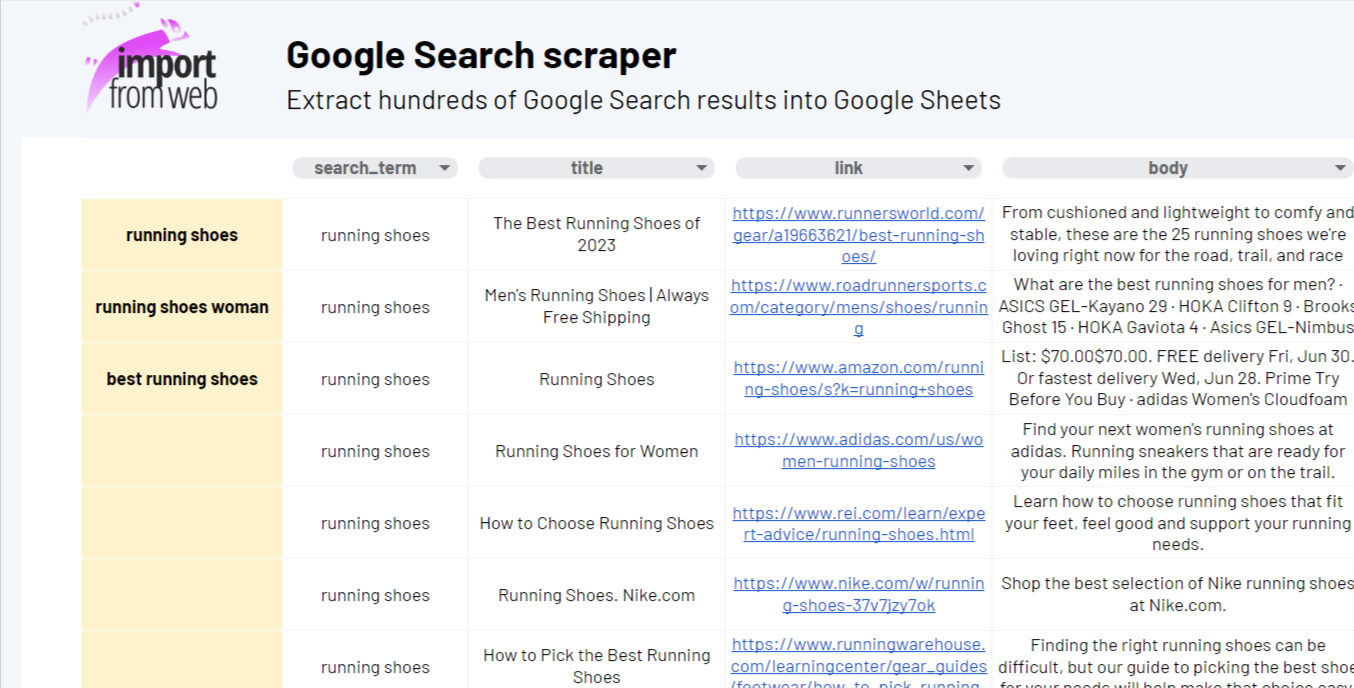 Google Search plays a central role in our digital lives, providing a gateway to the vast information available on the internet. It serves as a powerful tool for research, entertainment, shopping, and more. Businesses rely on it to enhance their online presence, drive website traffic, and connect with their target audience through search engine optimization (SEO) strategies.
Our no-code scraping solution offers time savings, customization options, seamless integration with Google Sheets, and the ability to obtain real-time data updates. Maximize your research capabilities and gain valuable insights with this powerful scraping tool.
Using the ImportFromWeb add-on and the function it adds to Google Sheets, you can extract your Google search results in bulk without technical knowledge!
With =IMPORTFROMGOOGLE(), you extract up to 300 organic Google results per query with the following data points:
title
description
URL
date
…
See all available Google Search data points
First of all, make sure you have installed the ImportFromWeb add-on from the Google Workspace Marketplace.
Then, just follow these easy steps:
To activate the add-on, go to Extensions > ImportFromWeb > Activate add-on.
Let's retrieve the organic results for "gym club Brooklyn".

This is the formula we need: =IMPORTFROMGOOGLE("gym club brooklyn")

Within seconds, you'll get the following data points for your results: title, description, and webpage's URL. Google may also include the publication date and the rating for some pages. For a full list of available data selectors, check out our Google Search selectors glossary.
The =IMPORTFROMGOOGLE() function can retrieve results for up to 50 sets of keywords! To collect data for multiple keywords, write them separated by commas or select a range of cells containing them:
The function has additional features which allow you to collect data using different options. You can specify these criteria using the function's third parameter: options.

Specify the number of results

By default, the function displays the first 10 Google results. However, you can specify the exact number of results you want to retrieve, whether it's only the first or the first 300.

For example, if you only want to retrieve the first result, use the following formula:


=IMPORTFROMGOOGLE("gym club brooklyn","title,body,link","num_results:1")

Choose the Google domain and results language

Our ready-to-use template is set to search within google.com, but you can change this setting to any domain you want.

The following example retrieves results from google.fr:

=IMPORTFROMGOOGLE("gym club brooklyn","title,body,link","domain:.fr")

Likewise, you can restrict the results to websites in a specified language.

The following example retrieves results in English only:

=IMPORTFROMGOOGLE("gym club brooklyn","title,body,link","languages:en")

Use "period" to filter by publication date

The "period" option allows you to filter the websites collected by publication date. You can select results from the past hour, the past 24 hours, the past week, the past month, or the past year.

For example, use this formula to retrieve results published in the past year:

=IMPORTFROMGOOGLE("gym club brooklyn","title,body,link","period:year")

Combine options

You can combine several options within the same function, like in the example below:

=IMPORTFROMGOOGLE("gym club brooklyn","title,body,link","domain:.fr,numResults:50")
We've designed an easy-to-use template.
Make sure you have installed and activated ImportFromWeb in your Google Sheets.